Would you like to be informed of Louis' concerts, events, and new releases? Just sign up and we'll let you know.


WORLDWIDE FIRST: THE LONG-AWAITED, LONG-EXPECTED, NEVER-BEFORE-ATTEMPTED
LUTE BOOK OF PERRINE HAS FINALLY BEEN RELEASED!
BUY IT NOW!!!

or download it on Itunes (Artist: "louis pernot")

This 17th century masterpiece, originally published in Paris in 1680, comprises some of the most beautiful pieces of Ennemond Gaultier, lute professor to the Queen of France.
The pieces were exclusively written for baroque lute, and unlike most other lute pieces, they were transcribed by Perrine, a contemporary of the authors, from the traditional tablatura writing style to a more precise, more modern technique. It gives indications about left- and right-hand positions; about ornementation and arpegements.This has made the Book a fabulous interpretation tool for other pieces; a sort of Rosetta stone for the lute world.

Louis Pernot has been working on this new recording for the past ten years; travelling to a chapel in Switzerland to achieve a unique recording.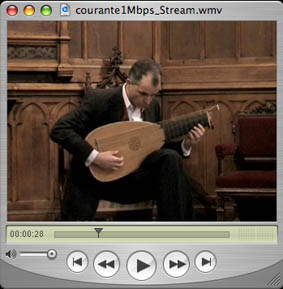 Here is a video of one of the pieces of the record: a "courante" of Old Gaultier.

Louis' latest review by Kemer Thomson, Music Musings, August 2005
I find Louis' musicianship to extraordinary. Each piece makes complete sense. It is hard to describe just how completely he understands this music, except to say that I have the same reaction when I hear Laurent Stewart play Louis Couperin and Froberger. He has a simplicity and directness that is utterly charming and compelling.
There are now some very good recordings of 17th century French lute music that are more polished and better sounding, but overall it seems that Louis Pernod's is the most heartfelt and genuine. For years I have struggled to understand why La Rhétorique des Dieux was important, I am convinced that this is one of the very important collections. Truly music of the gods.