Louis Pernot
French baroque lute
Born in 1959, Louis Pernot started playing classical guitar as a child but was very soon attracted by ancient music .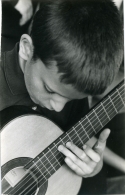 He was among the first to rediscover the lute when he was only 13 years old; he gave up then the guitar for the lute.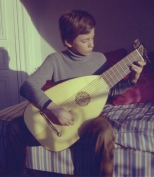 Together with other lute players using treatises and ancient manuscripts, he researched the technique, untaught at the time, and learnt to read the fingering chart pertinent to the lute. From 1979 on, he studied interpretation on various musical periods under the direction of the musicologist Antoine Geoffroy-Dechaume and studied its relation to baroque danse (with Francine Lancelot).
Since 1981, Louis Pernot has regularly given baroque lute and theorbo récitals dedicated to French composers of the 17th century (Gautier, Dufaut, Mouton, Dubut, Galot, Robert de Visée) and German composers of the 17th and 18th centuries (Bittner, Weiss, Kellner and most of all Johann Sebastian Bach, himself a lute player). He has also accompanied performances of baroque dance or voice, in particular with Christine Bayle and Nella Anfuso respectively.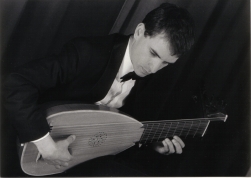 He has participated in several festivals, radio and television programs. Some of his concerts have been broadcast in full on the French radio station « France Musique ». He has recorded some works of Bach for Pathé-Marconi 1984), a CD for Accord-Musidisc entirely dedicated to Dufaut (1988) and a double CD for the publisher of the complete recording of Denis Gautier's « la Rhétorique des Dieux « (1653) in 1990. In 2004, he recorded Perrine's book of lute with works by Gautier.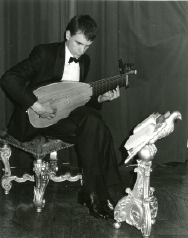 Since his work includes research on the nature and quality of ancient instruments, his lutes are copies of ancient instruments made specially for him and he is one of the few players who play on gut strings similar to those used by the artists of the period.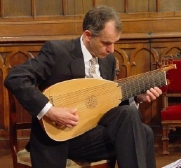 Moreover, Louis Pernot is a graduate engineer from The Ecole Centrale de Paris, has a PHD in philosophy and is a pastor of the Reformed Church in Paris.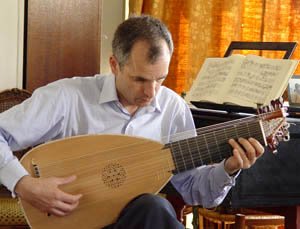 Home | Biography | Instrument | Researches | Recordings | Press and critics | Last recording | Teaching | Links
Contact me: